Paceman Baseball Pitching Machine [Original S2]
Paceman Baseball Pitching Machine [Original S2]

Professional Grade Pitches From This Paceman Pitching Machine
Fully Adjustable Deliveries
Never miss another fastball, changeup or breaking ball with fully adjustable pitching. Vary speed and curve to push your batting boundaries.
Optional Battery Kit
Practice your pile-drivers wherever, whenever. The optional 12V deep cycle battery kit will power your Original S2 Paceman for 2 to 3 hours.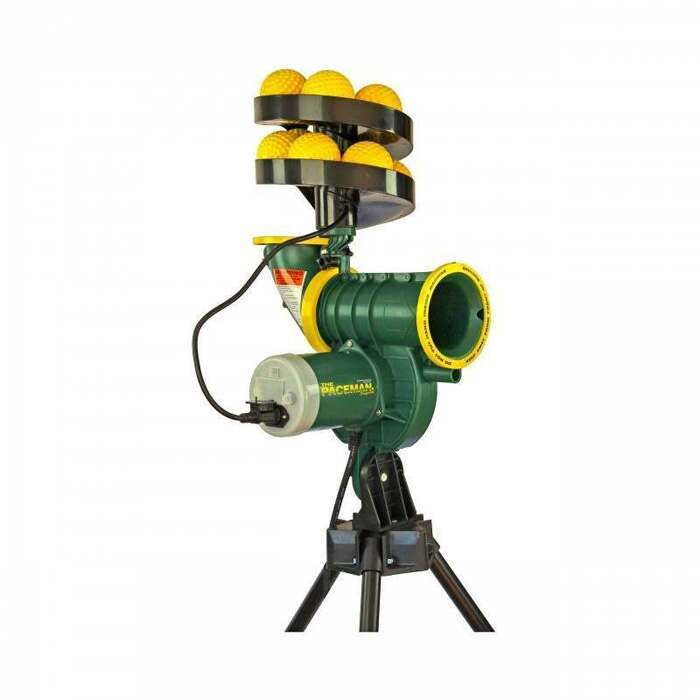 Your Own Personal Trainer
The Paceman S2 will become your own personal coach. Use with the FORTRESS Ultimate Batting Cage and transform your garden into a baseball arena.
Description
The Benchmark Pitching Machine – Elite Kit at an Unbeatable Price
Drastically enhance your batting ability with the Paceman Pitching Machine Original S2. With outstanding features and quality at an affordable price, this is the ideal pitching machine to help advance your batting average.
The Paceman Original delivers consistent pitching accuracy meaning you can rely on it for effective baseball and softball practice both at home and in club training sessions. For fully portable practices, the optional battery kit will allow you to enjoy use of your Paceman baseball pitching machine in a varying environments, from grass fields to concrete and tarmac surfaces.
Suitable for use with Paceman Light Balls
A 12 ball-capacity included
Varied pitch speeds of up to 90kph
Each Original S2 is supplied with 1 Paceman ball
A simple to assemble pitching machine
Whether you're a seasoned pro or just starting your baseball career, the Paceman Original S2 allows you to replicate fastballs and breaking balls with its fully adjustable speed settings. This premium machine has been designed to deliver high velocity pitches with speeds up to 90kph to effectively challenge your technique while strengthening the upper body. Combined with the pitch delivery system, you'll be able to perfect your batting and be fully prepared for difficult pitch types.
Included in this fantastic package is the Automatic Spiral Ball Feeder especially made for the Original S2 Pitching Machine. This feeder holds 12 balls to save you time loading the machine, leaving you free to perfect your batting technique. The Original S2 is also supplied with one Paceman ball to get you started instantly. To fully utilise your 12-ball capacity auto feeder simply add a set of Paceman Light Pitching Machine Balls to your package. These balls are specially crafted for the Original S2 to ensure optimum pitching accuracy that will aid your overall performance.
Please Note: The Paceman Original S2 Pitching Machine should be used only with Paceman Light Pitching Bowling Machine Balls.
For battery option - BATTERY CHARGER IS NOT INCLUDED
---
| | | | | | | | | | |
| --- | --- | --- | --- | --- | --- | --- | --- | --- | --- |
| | Power | Housing | Motor | Speed | Ball Feeder | Drive Wheel | Adjustable Dial? | Adjustment | Ball Compatibility |
| Original S2 | UK Mains 220-240v | Plastic | AC | Up to 55mph | 12 ball feeder included | PU | YES | Pitch & Swing | Light Balls Only |
| Original S3 | 12v SLA Battery (22 A/H) | Plastic | AC | Up to 55mph | 12 ball feeder included | PU | YES | Pitch & Swing | Light Balls Only |
| Pro X2 | UK Mains 220-240v | Metal | DC | Up to 68mph | 12 ball feeder included | Concave TPR | YES | Pitch, Swing & Spin | Light & Hard Balls |
Specifications
Features
Built-in 3G (Third Generation) Paceman Drive Mechanism
Speed of pitch can be adjusted using dial, up to speeds of 90kph (over 55mph)
Package includes 12-capacity automatic ball feeder
Inside breaking ball and outside breaking ball delivery function
MISCELLANEOUS
Paceman S2 Pitching Machine is fitted with a UK standard 3 pin plug, with UK mains powered (220-240v). For countries outside the UK, Ireland or Australia, a step up/down voltage converter may be needed to run the machine correctly on your local mains power supply.
Alternatively, the optional battery kit comprised of a 300W pure sine wave inverter and a 12v (22amp/hr) deep cycle lead-acid battery will provide enough power for around 2-3 hours of use. Please note the battery charger is not included.
Package includes 1 Paceman ball (additional balls can be purchased from Net World Sports).
Suitable for use with Paceman Light Pitching Machine Balls ONLY
Want to chat?
Contact us here and we'll get back to you as soon as possible.
Questions & answers
Ask fellow customers what they think!
Hide Q&As
Questions & Answers
1 question | 1 answer
What are the speeds this pitching machine pitches? Nothing in the description says what are the fastest and slowest speeds.
Hi, thank you very much for the enquiry. The pace of the ball can be adjusted to a variety of speeds all the way up to 90kph.
Many thanks,
Grant
You may also like
FORTRESS Ultimate Baseball Batting Cage & Poles
NZ$1,539.99
Recently Viewed
FORZA Pro Training Vests [5 - 15 Packs]
NZ$24.99
5.6m x 2m FORZA Alu110 Freestanding Football Goal
NZ$4,454.99
Socketed Professional Golf Cage and Net
FORZA Dominate Match Rugby Ball – International Match Ball
NZ$69.99
Harrier Rattan Corner Sofa & Dining Table Set [9 Seater]
NZ$2,419.99