7.3m x 2.4m FORZA Alu110 Freestanding Football Goal
7.3m x 2.4m FORZA Alu110 Freestanding Football Goal

Set Your Sights On The Top Corner Of Our Full Size Metal Football Goals
Heavy Duty High Lift Wheels
Enhance your full size goal with the lever type, puncture proof wheels. Featuring a CAM mechanism, the wheels allow the goal to be easily moved.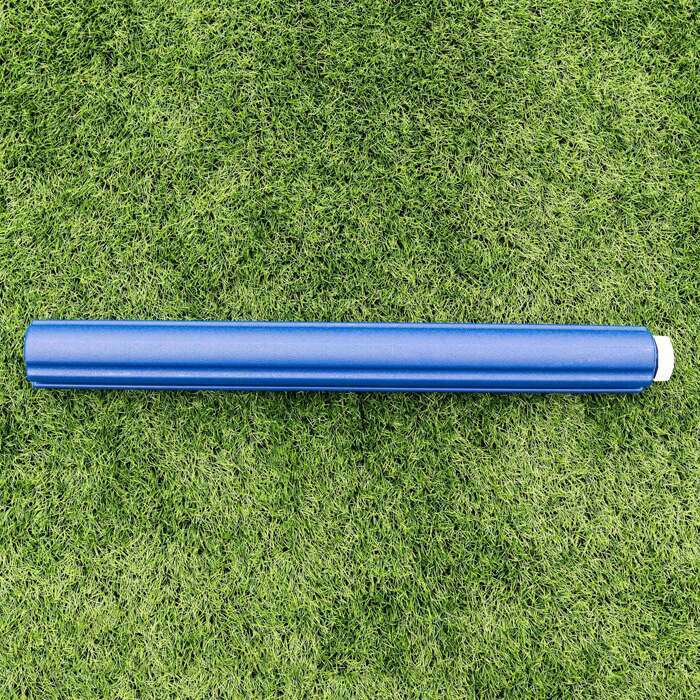 Option To Add Internal Weights
Include counterbalance weights with your order to bolster the stability of your goal during use. Simply place the weights in the side of the goal for security.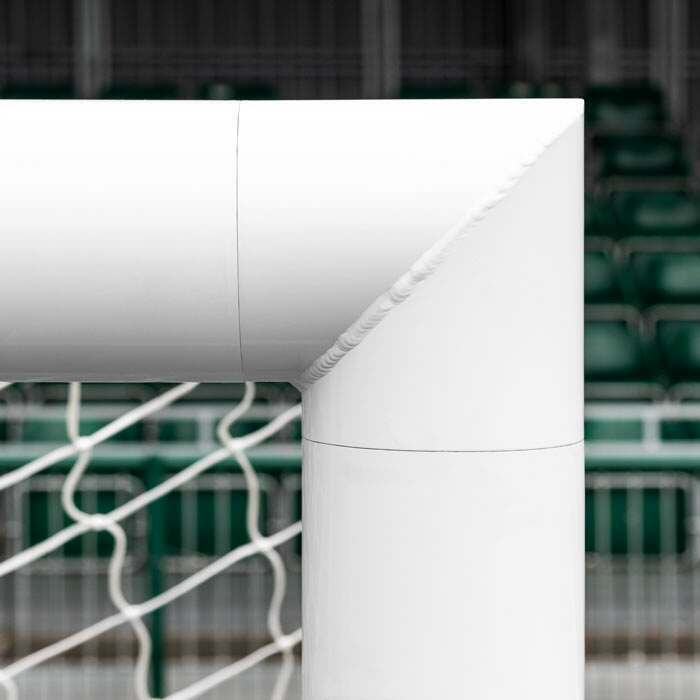 Hard-Wearing Welded Corners
Built for a long lifespan, the tough full size freestanding goals feature sturdy welded corner joints which provide greater strength than mitred corner joints.



Description
Take Your Football Club To The Top With This Fantastic FORZA Full Size Football Goal
This regulation full size (7.3m x 2.4m) freestanding FORZA Alu110 football goal is the perfect addition to your football clubs practice arsenal. Manufactured from reinforced 110mm aluminium this goal delivers both strength and power to lead your football club into a new era of excellence on the pitch for the foreseeable future!
Official regulation size 7.3m x 2.4m senior 11-a-side matchday football goal for use on indoor and outdoor surfaces
Ultra-durable 110mm reinforced aluminium powder coated football goal frame which is fully weatherproof and rust-proof
The goal comes with a premium 5mm HDPE braided football goal net as standard which is UV treated for use in all conditions
There is the option to add easy-lift lever type anti-puncture black rubber wheels which raise the goal 100mm off the ground
Add optional internal counterbalance weights which have been expertly designed to prevent the goal from overturning during use
This full size football goal is 100% weatherproof ensuring that no practice session will falter due to the wild weather.
Forged from solid aluminium the goal is fully rust proof and the heavy duty 5mm HDPE braided net means the goal can be left outside all year round without fear of rust or corrosion taking place.
The FORZA Alu110 range has been designed with power, strength and precision in mind. The goal retains all the FORZA characteristics of being great value for money and ultra-reliable but now possesses the additional qualities of being bigger, stronger and better than ever!
Further customise your goal package with the addition of wheels and additional weights. The wheels will make moving your FORZA goal between a variety of different surfaces so simple whilst the added internal weights will further anchor the goals to the ground to maximize safety and security.
Specifications
Dimensions:
FORZA Alu110 goal size (width/height) 7.3m x 2.4m (24ft x 8ft)
7.3m x 2.4m football goal is the FIFA/UEFA approved internationally recognised full size football goal
FORZA goal top runback: 92 CM (36in, approximately 3ft)
FORZA goal bottom depth: 244 CM (96in, approximately 8ft)
Materials:
Club spec goal is manufactured from 110mm diameter reinforced aluminium and powder-coated white
Aluminium goal frame provides fantastic protection against rust and corrosion
Each goal includes a heavy duty and weatherproof white 5mm HDPE braided football net plus twist & lock-style net clips for easy attachment
Miscellaneous:
Each individual goal will be delivered in 4 boxes – (Wheels/Weights will come individually boxed)
Goals will be delivered in flat pack form and will require assembly
It is advised that the following tools would be useful to help with assembly: mallet, wrenches, ratchet with sockets
1 year guarantee as standard with all FORZA football goals
Please Note: This goal has been independently tested to BS EN 748 safety standards. To view the video please click here.
Goals are independently tested to BS EN 748 safety standards and comply to FA, UEFA and FIFA regulations
Goals conform to FA Match standards. Net World Sports is recognised by the FA as a suitable supplier of football goals
Don't just take our word for it
I purchased one of these goals for my property after careful consideration & I have to say, I have not been disappointed! This goal is fantastic, it has a real professional look and feel to it. After shopping around, I am delighted that I found this product at a really competitive price and I was even more impressed that I could get this delivered on a next day service as it enabled me to have it ready for a BBQ the following weekend, the kids loved it and played in it all day pretending to be their favourite players & I even got involved myself!
Want to chat?
Contact us here and we'll get back to you as soon as possible.
Super fast shipping
2-4 day shipping available
Questions & answers
Ask fellow customers what they think!
Hide Q&As
Questions & Answers
3 questions | 3 answers
In the US High School Soccer, they will not allow the sticker on the front of the goal, can the goal be purchased with out them on the front of the goal?
Hi Brian, Thank you for the question. You could take the FORZA logo off the goal as this is only a sticker so can be easily removed however this will remove the goal Warranty from the product. I hope this information is useful. Many thanks, Ryan.
Does the Forza ALU110 meet NFHS, NCAA, and FIFA specifications?
Hi Brian, Thank you for the question. The 24 x 8 FORZA Alu110 Freestanding Football Goal does indeed conform to NFSHA, NCAA and FIFA standards and specifications. They also conform to ASTM 2950-14 and UEFA standards with a performance and safety standard of English FA BS EN safety standards. The goals have been fully tested to ensure top most quality and paramount safety. If you have any questions please do get in touch, Many thanks, Ryan
what does a single or double goal mean?
Hello, thank you very much for the enquiry. A single goal would just be for one goal and a double/pair would be for two.
Many thanks,
Grant
You may also like
7.3m x 2.4m FORZA Alu60 Football Goal
NZ$2,299.99
7.3m x 2.4m (24ft x 8ft) FORZA Alu110 Socketed Football Goal
NZ$2,654.99
6.4m x 2.1m (21ft x 7ft) FORZA Alu110 Socketed Football Goal
NZ$2,599.99
6.4m x 2.1m FORZA Alu110 Freestanding Football Goal
NZ$4,799.99
Recently Viewed
Tennis Court Surround Netting [Made To Any Size]
NZ$6.99
METIS Pro Cast Iron Kettlebells [4kg – 40kg]
NZ$24.99
Vermont Prime Table Tennis Bat [Pro]
NZ$99.99
FORTRESS Cricket Umpires Counter
NZ$19.99
FORTRESS Portable Baseball L-Screen
NZ$199.99