Striped/Two Colour - Football Goal Nets [10x Colour Options]
Striped/Two Colour - Football Goal Nets [10x Colour Options]
Take Home Advantage To The Next Level With This Professional Coloured Goal Net
Regulation full size
At 7.3m x 2.4m these nets are perfect for regulation full size 11-a-side goals. Take your matchday experience up a notch with these football nets!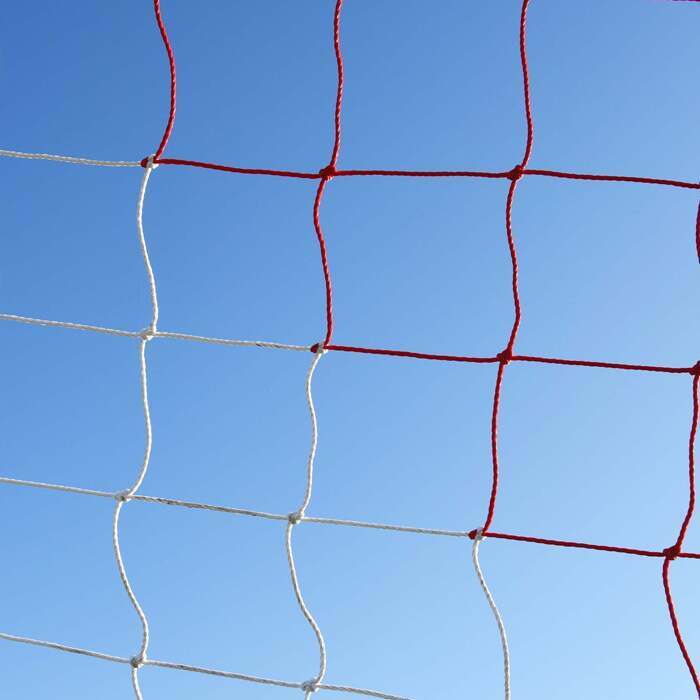 Heavy duty net
These extra heavy duty 3mm thick twine football nets are perfect for year-round football action. They will battle the conditions and stand strong against prolific goal scoring!
Plenty of choice
With 10 different colour combinations available, you'll not be found wanting when looking to match the net with your team colours.
Description
The Best Dual-Coloured Goal Nets For Any Level Of Football
The best football goal net for any level of football. Whether it is an amateur game on a Sunday or semi professional game midweek, this striped football goal net delivers professionalism and security to every pitch. Featuring 120mm mesh squares and 3mm thick twine, this premium quality football net safely secures the fiercest of shots and provides reliable performance all year round, season after season.
Extra durable 3mm twine football netting to survive the harshest conditions
Available in 10 different colour combinations for added choice
Professional football nets that are available as a single or in a pair
Made for regulation full size 7.3m x 2.4m (24ft x 8ft) goals
120mm mesh square with overlock edge, suitable for goalposts that feature top runback or net supports
This football goal netting was specifically designed for regulation sized goal posts (7.3m x 2.4m) and is available in ten different colour combinations to match team colours. With 120mm mesh squares and 3mm thick twine, this full-size goal net is manufactured to last in the harshest of conditions without losing performance. The extra strong 3mm weatherproof football goal nets are resistant to all weather conditions from sun to snow.
Specially crafted with overlock edging, each striped goal net is perfect for use with full-size goal posts that feature a top runback or net supports such as those in continental football goal designs. Available in ten different combinations these coloured football nets are sure to meet your teams every want and need. Available as a single or as a pair, these professional goal nets can take your field to the next level and intimidate your opponents.
Net world Sports offers a wide variety of different football goal nets from kid's football nets to adult football goal nets. Whether you require a standard net or a more heavy-duty solution, we are sure to have the perfect goal net for you and your team.
Specifications
Dimensions
Striped net for full size 7.3m x 2.4m (24ft x 8ft) goals
Nets have a 0.9m top depth and an 2.5m bottom runback
120mm mesh square with overlock edge
Materials
Extra heavy duty 3mm football netting grade supplied
Miscellaneous
Colours available - Blue/Black, Orange/Black, Red/Black, Blue/Red, Black/White, Blue/White, Green/White, Purple/White, Red/White, Yellow/White, Blue/Yellow
Suitable for goalposts with top runback and net support brackets (continental design)
Don't just take our word for it
Quality product great customer service
Great quality at a great price - love the option to be in club colours
Great net! no problems fit.
Great seller and products
Want to chat?
Contact us here and we'll get back to you as soon as possible.
Super fast shipping
2-4 day shipping available
Questions & answers
Ask fellow customers what they think!
Hide Q&As
Questions & Answers
1 question | 1 answer
What is the depth of your net, top and bottom?
Hello, thank you very much for the enquiry. These nets have a 3ft top depth and a 8ft 4in bottom run-back.
Many thanks,
Grant
You may also like
Standard Grade - Football Goal Nets [All Sizes]
NZ$54.99
Custom Football Goal Nets [Any Colour]
NZ$159.99
Stop That Ball™ - Ball Stop Net & Post System
NZ$229.99
Heavy Duty - Football Goal Net [All Sizes]
NZ$59.99
Ultra Heavy Duty - Football Goal Net [All Sizes]
NZ$99.99